Ranjani Shettar creates installations and sculptures using diverse media, making works that challenge the categorical separation between craft and sculpture. Her work stands in the thresholds between art and craft, tradition and modernity, the physical and the ethereal. '
Though never an exercise in verisimilitude, Shettar's works borrow from and bring to mind numerous naturally occurring structures. From constellations to funnel webs, clusters of berries to beehives, the works appear to spread organically across the space. For instance,
Vasanta
(meaning 'Spring' in Hindi) is a vast web of hand-rolled beeswax balls strung in colours varying from sky blue through pale greens and yellows. As with other suspended works, the play of light and shadow creates a looming presence.
Hand molded beeswax, pigments and thread dyed in tea
Lacquered wooden beads, pigments, stainless steel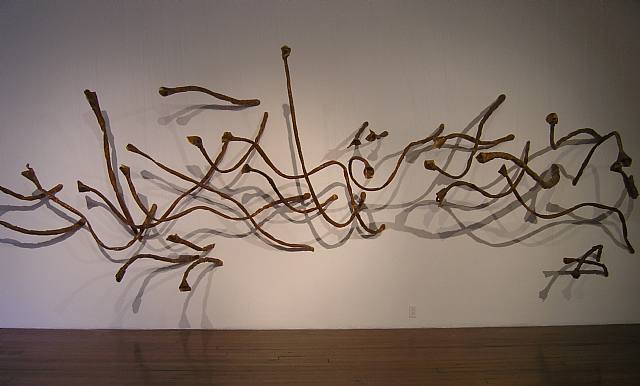 Vulcanized latex, cotton thread